So Dave and I had some delicious dinner With Toby, Joe, Andreas and Kobe.
It seems that a lot of restaurants in Australia are different in 2 ways from the US:
1. No Tipping. This goes for bars too. Their minimum wage is far higher than ANYWHERE in the States, and they don't get paid any less because they can make tips ( I saw this in Arizona- $5.15/h was the minimum wage, but if you made tips, it was $2.15/h!) They'll look at you funny and you'll obviously be a tourist. That being said, I've noticed not too many waiters go above & beyond to make people happy.
2. A lot of restaurants are BYOB. I don't know why this is at all.
After dinner, we followed Toby and Andreas to a bar and hung out.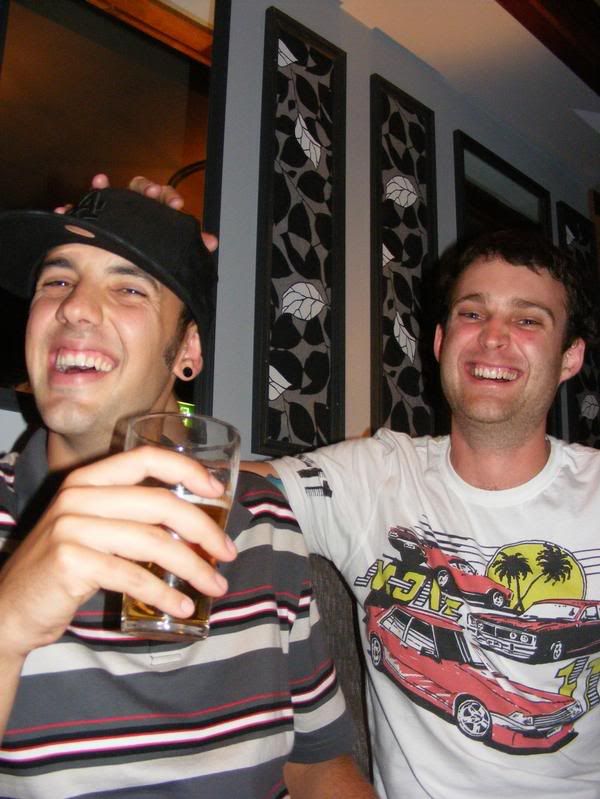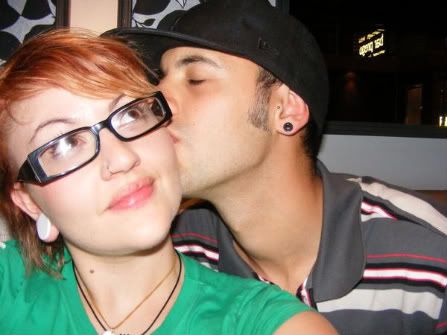 Andreas ended up disappearing and Toby kept buying us drinks...Let me just say, the Aussies can DRINK. They are also some of the most hospitable people I have ever met. We took a taxi back to Uncle Reno's place and went to sleep.
Sydney was great fun!
The 13 hour drive back was...well, 13 hours. I wanted to check out Big Banana, but it was closed by the time we got there.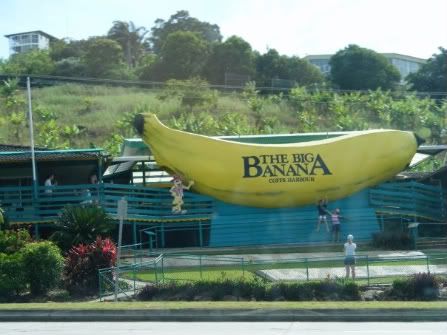 I really like their pride of native Aussie things ( Big Pineapple, Big Prawn, Big Banana, etc...).
Here's a photo of Big Prawn (their way of saying "Shrimp")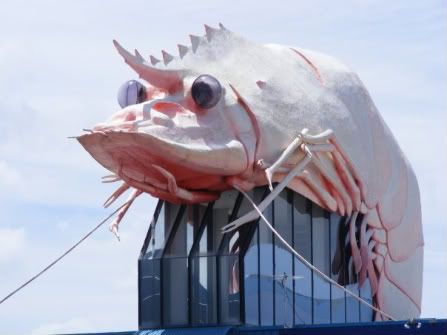 We decided instead of staying the night in a hotel (we weren't impressed by the ones we were looking at) that we'd just stick it out and drive all the way back to the Sunny Coast. That afternoon, we drove past the sugar cane fields again.
The air smelled sweet and it felt like we were being kissed by the sun with the windows down, our arms in the wind and smiles on our faces.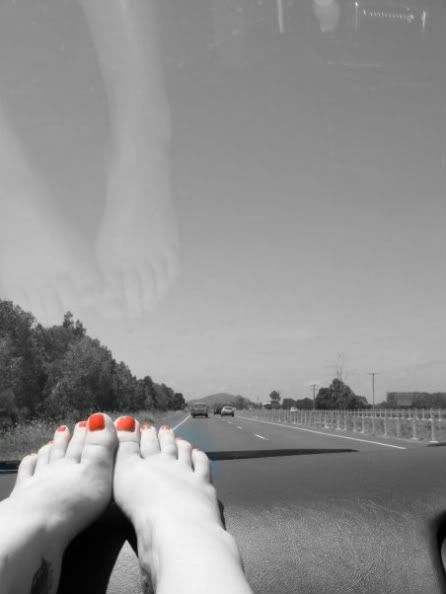 Road trips are my favorite. I looking forward to exploring more of Australia with my honey =]
One day, Dave took me to a hidden treasure: Gardener's Falls.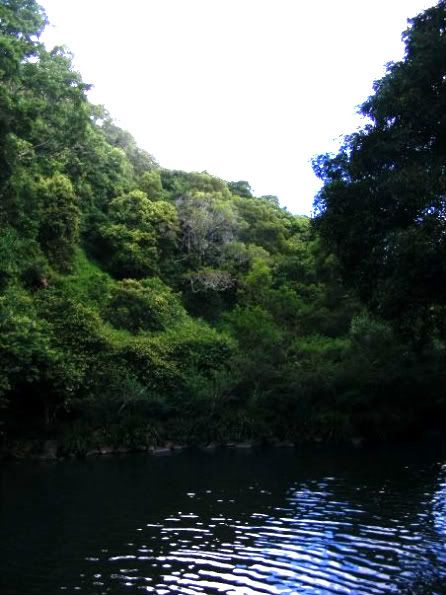 It's a local secret. I was beyond excited to discover this waterfall, with a rope swing! But of course, the big sissy that I am, I couldn't jump. But Dave did!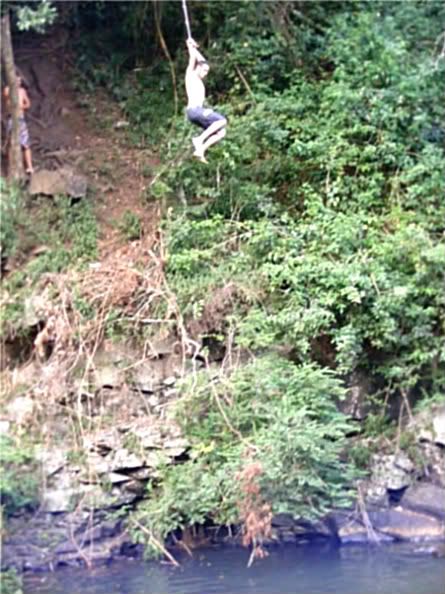 You can also jump off the rocks, but I couldn't do that either. Hopefully one day I'll be able to muster up the courage to do it!
On the drive back home that day, we stopped to take a photo together with the nice scenery in the background.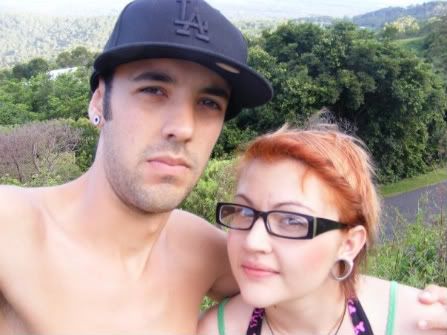 Then, we noticed a lady pull over. She got out of her car and offered to take our picture! Wasn't that the nicest thing?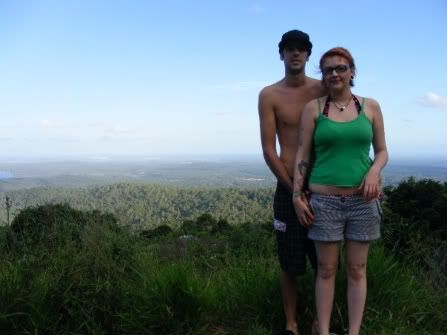 Then I took a funny picture of Dave next to his car. He thought it was lame. Sorry honey! haha =]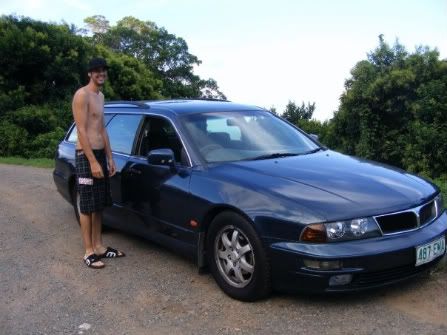 I forgot to mention, one of the best parts of my trip! Dave took me to BIG PINEAPPLE! If you know me (::cough:: Rachael ::cough::) you know that I love pineapples!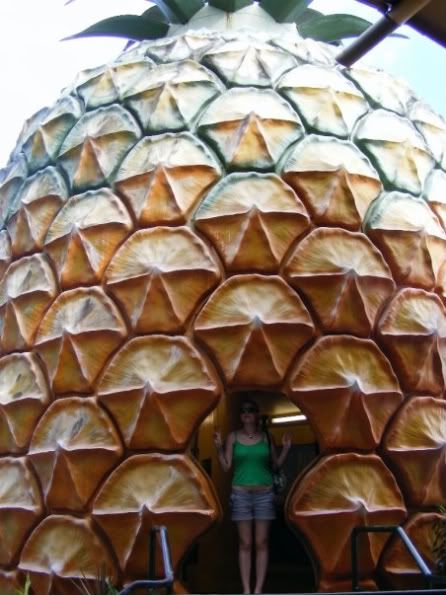 Did you know Pineapples grow from the bottom up?
They also have animals there!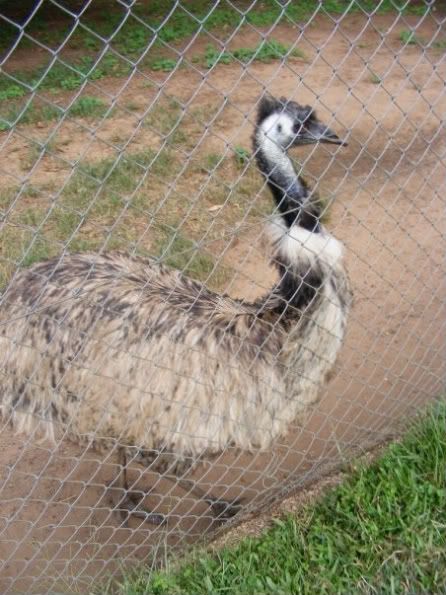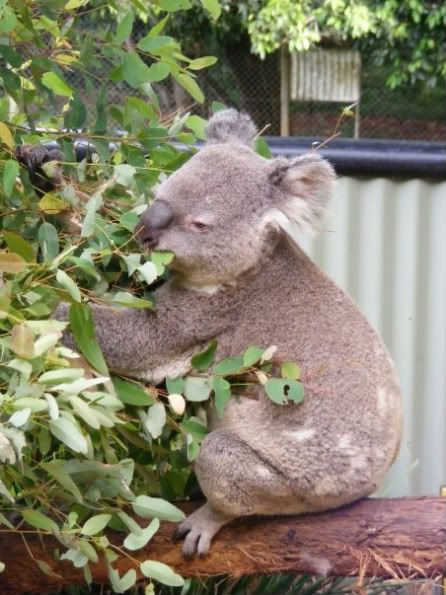 They serve the yummiest ice cream there! This country has the most exotic flavours too! ( Macadamia is my favorite, it's just plain HEAVENLY!).
While in Australia, I also had my very first snorkeling experience.
It was kind of scary, learning how breathe through a tube. I thoroughly enjoyed using my flippers though! Noosa National park is so beautiful! We saw a silver eel, a couple of jellyfish, a baby stingray, and some pretty fish. I need to get a waterproof camera! I'll admit that I am nt totally used to sea life, so when I saw the eel and the stingray, I jumped out of the water and latched onto Dave's legs, and of course he made fun of me...meanie!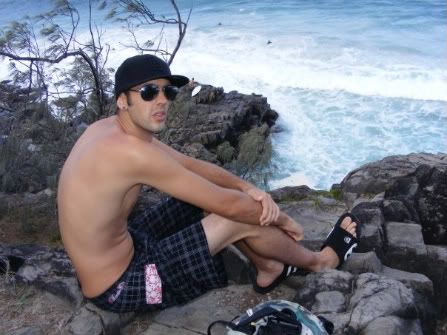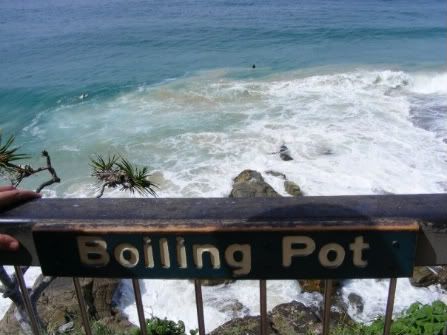 Lastly, but certainly not least, I had the tremendous joy of going to Australia Zoo. It is the Zoo that Steve Irwin took over years ago and made it into what I believe is the biggest Zoo in Australia, and it's just wonderful. They have a huge area where you can feed and pet Kangaroos! This one was my favorite. It's an Albino. It hopped several feet to come see me. It is as soft as a bunny!
Look at all the sleepy Koalas!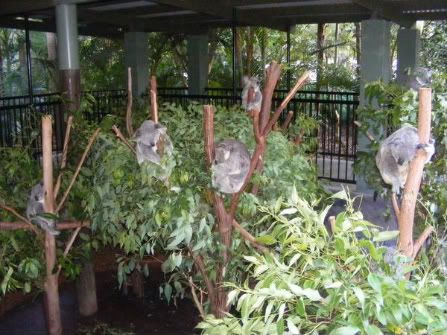 Like the nerd That I am, We stayed until the park closed. on the walk out, I made a new friend, who was being taken out for her evening walk.
Wombats are AWESOME! I wish I could have one as a pet!
Unfortunately the dreaded time came...I was leaving. We got together with Dave's parents and friends for a goodbye dinner at a yummy Thai Place.
This is me and Therese, David's Mother <3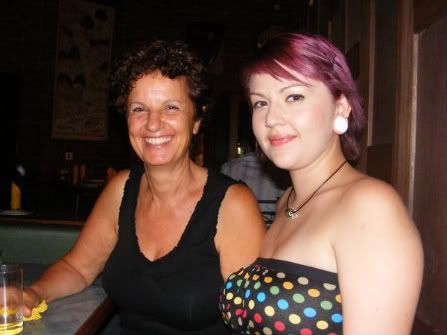 Of course, we were both very upset. When I was packing, I cried. Dave had to leave the room and watch TV because he said he couldn't bear to watch. We cried at the table while eating breakfast the morning I was leaving. We left each other crying at the airport ( David swears he just had something in his eye). The people at customs asked me if I was okay, and a quickly explained our situation, and of course, I lost it and tears came down my face again...It never gets easier to say goodbye.
I got on that plane against my will. The steward got me buzzed on champagne and checked up on me frequently. By the time I landed in Auckland, I felt somewhat better. Not happy, but not crying. A sort of numbness, Almost the way you feel when you just got dumped. I didn't know when I was going to see David again. All I knew was that I missed him, and I didn't want to go back to LA.
On the second flight, I sat next to a newlywed couple. I swear, They were so odd! Leather vests, leather hats, the Man was a giant ( tall AND large) and she was large but not as tall. They had gold rings on, which, get this, had the same writing as the ring in "Lord of the Rings" and I couldn't help but giggle to myself...And then The man pulled his leather satchel from under the seat in front of him. Hilarious!
I landed in LA, and my dear friend Aubrie came to pick me up. She is one of the best friends anyone could ever ask for.
I couldn't bear to go back to my apartment for a few days, so instead of dealing with my crappy roommates, I grabbed some clothes and stayed with my friends Shelley and Sabrina for a few days. The Rucker sisters are really sweet young ladies. They cheered me up with food, movies, and company. Sometimes you just need your friends to remind you that life isn't so bad.
When I finally went back to my apartment, I found out that my roommates were moving out! After working a couple of days, I went home one night and all their stuff was gone. Just what I needed! After a few days of panic, I put in the 30 day notice and started to pack. I moved everything into storage with the help of my friend Rick and my mother, and all I lost was my right pinky fingernail! It was the grossest and most painful experience I have ever had to date. I'll have to find a picture and put it up.
Simply put: Don't get fake nails! ( Back to Australia, it's much more expensive to get your nails done there!)
I moved into my mom's place for the month of April, and looked for a new place to live. Dave and I decided he was going to come out in May for 6 months, and we'd go from there.
He was coming back on May 5th!