I have always hoped that at least one moment in my life would be as if it were in a movie. Just ONE. I buried myself in books and immersed myself in movies for most of my young adulthood ( meaning junior high and high school). You know, the moment where the main character does something completely out of character and even slightly daring... are you with me on this?
We got back to the hotel and decided to go for a swim. It was locked ( I never knew they locked pools in hotels!!??) So, we jumped the fence. I think it was partly my idea, but I never thought we'd A) get over the fence and B) not get caught. It was kind of thrilling! we got in the jacuzzi and just talked for over an hour. We also noticed a man go into his hotel room and about half an hour later, a woman who was DEFINITELY a prostitute knock on the same door and disappear inside. We found this extremely entertaining, and quietly giggled about it...Once we got pruny, we went back into the room and laid down beside each other and started to watch "Deadliest Catch". (sidenote: Because of those boys, I have come to love this show. )
Me being the complete clutz that I am, I accidentally let my beer tip over and spilled a little. Dave freaked out a little and I was MORTIFIED. I thought that he hated me instantly. (He just really likes cleanliness, not obsessively, even though I do make fun of him at times over it!) so we had to move over to the next bed, and, he kissed me. Again, completely shocked. I think he saw how embarrassed I was, so he probably felt he should just prove that his "feelings" for me(whatever they might have been) hasn't changed over it. Once again, I was surprised and got weak in the knees. So, one thing led to another...
We woke up the next morning, and it was like we had been together forever, in the good way. We couldn't stop smiling at each other and cuddling ( but not the overly-gross-mushy cuddling type, just cute enough), but I was still a bit shy. I took a shower and while getting dressed, I responded to a couple of text messages from 2 lady friends, asking about how the night went...at first I tried to play it off like it wasn't a big deal, because one of them in particular was trying to keep me from becoming emotionally attached too quickly, but of course they saw right through me...
I came out of the bathroom, feeling awkward and shy, but also secretly glowing. He looked at me with the most honest eyes I have ever seen in a man, he had such a sweet smile on his face, that is EXACTLY what a girl hopes for when she has just spent the night with a man for the first time, especially a man she's falling for...
We went to grab some breakfast at IHOP, across the street from Disneyland. We had nice conversation, nice breakfast, and off we went to Disneyland! I was blocked out on my Annual Pass that day, so I dished out the $55 or so it cost for me to get in ( which, actually overdrew my bank account, but that's because my P-O-S roommate's rent check to me bounced...) and we went to California adventure.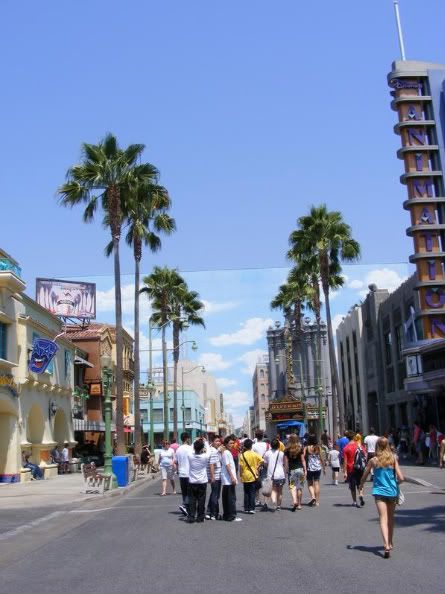 Dave needed to discover the typical Californian vibe: Beach Boys, Twilight Zone, Monsters, Inc. ...Wait, what? Just kidding. He did really enjoy the Soarin' Over California ride, which is really nice, and it shows a few things the Sunshine State has to offer. I beat him at the Toy Story ride/game ( duh) and he saw my inner child come out on Monster's Inc. We didn't go on California Screamin' or Tower of Terror, because I was too afraid and he wouldn't go without me. We crossed over to the actual DisneyLAND park, and I showed him all my favorite spots. For lunch, Bread Bowl Gumbo in the French Quarter, Dole Whip Floats at the Tiki Room, dinner at the Pizza Port chowing down on some Fusilli, frozen apple juice outside the Village Haus, and watching Fantasmic while munching on a shared churro. What a magical day! But then...
Holy CRAP! Time flies when you're having fun! We were almost in the process of making Dave miss his plane! We practically sprinted to the trams, but at the same time, we half-heartedly hoped he would miss it and we could spend another day together. We got off the tram, about to head up the escalator to my car, and, the fireworks started. I was never a huge fan of the fireworks, but that's because I never had the right person beside me to admire them. We stood there for about 5-10 minutes, took this photo
and headed to my car. Then we realized that we didn't have enough pictures together, so we took this.
I love this photograph so so so much. I used to catch myself staring at it, wondering how I managed to get a man as handsome as him to even look at me twice.
We jetted off to the airport, and he was so late, and the parking lot was PACKED, that I told him to grab his stuff and go check in while I looked for a spot, and hopefully I'd catch him to say goodbye before he had to go through security. Before he got out of the car, he kissed me. Then he opened the door, got out, and kissed me again. Then he grabbed his bags out of the trunk, came to my window, and kissed me again. He ran off and I hurried like a madwoman to find a space to dump my car and run after him. I finally get to the Qantas desk, and there he is, waiting for me. His flight was delayed until 2:30am! We could have stayed at Disneyland! I decided I would hang out at the airport with him until he had to go. We sat on a bench and talked, I had an Iced Coffee from McDonalds, and then it was time for him to go.
I thought it was going to be easy, I was so good at holding back my tears, but when he was gone.
I went back to my car, got in, and I lost it.
I woke up the next morning to a text message from him (that he sent just before he got on the plane, but It arrived as I was sleeping because of a strange delay) and it read: "I hate goodbyes :( "
To be continued...