After the Kangaroos, we went to Dave's parents' house. I was lucky, because They have a lake in their back yard and there were some ducklings hanging out, so to break the ice Therese gave me some bread to feed to them!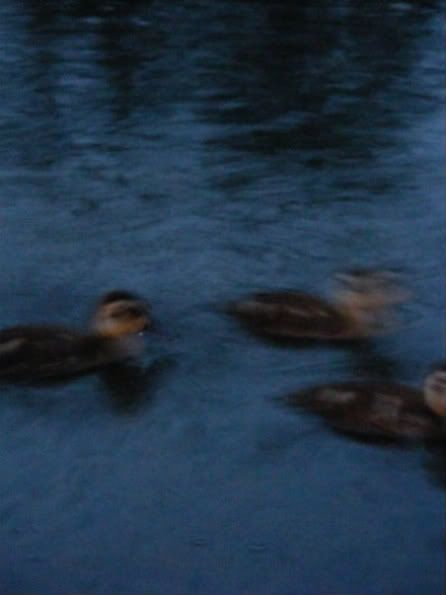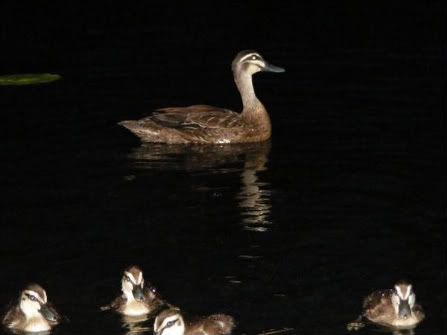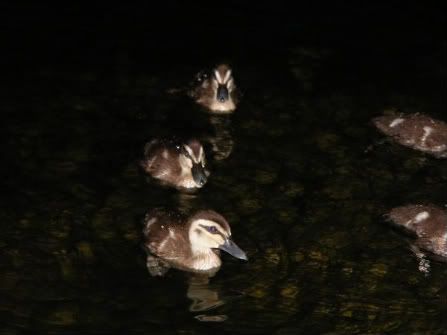 John and Therese are the nicest people. Therese is a fantastic cook, and I enjoyed talking about movies with John tremendously. I kept my sweater sleeves covering my arms, because no matter how nice they were, I was sure it would all change if they saw my tattoos. I think it might be because of a few years ago when my mother had said that I would have a hard time finding a man that would accept me with my tattoos, and I had replied that I didn't want the kind of man who wouldn't accept me for who I was or what I looked like. Several times John and Therese asked me if a wasn't too hot with my sweater on, and I said I was fine, but in reality I was perspiring profusely!! You certainly never wear long pants in summer out there ( Yes, it was January, but in Australia the seasons are switched around. Never a white Christmas there, that's for sure!), but a sweater, only if it's raining. It's hot ( around 100F daily), and very very humid! I only went swimming in the pool once it got dark too...Hey, sue me for fearing that my potential future in-laws would hate me! I loved them so much, and although that fear wasn't completely gone by the time we left, I looked forward to seeing them again.
So the hard part was over, or so We thought. But we'll get back to that later.
During my trip, Dave took me to do a whole mess of cool stuff. We went to the beach pretty often, the area we went to was called "Mooloolaba Spit", which is protected from incoming wind via the waves, so jellyfish, mainly Blue Bottles, weren't a problem there.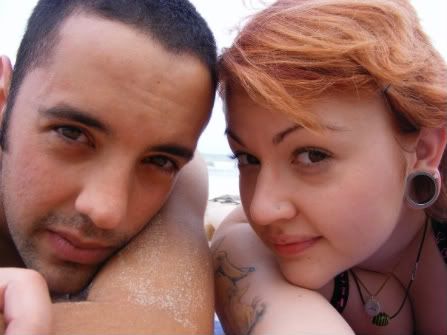 One day, Dave took me to Underwater World!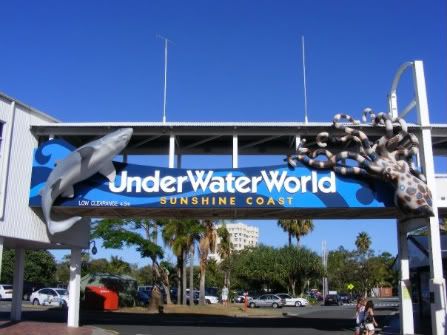 It's the local aquarium of the Sunshine Coast. It's really nice, even though it's smaller than what most Angelenos are used to, since we're spoiled with the Aquarium of the Pacific. The native fish were awesome! Pineapple Fish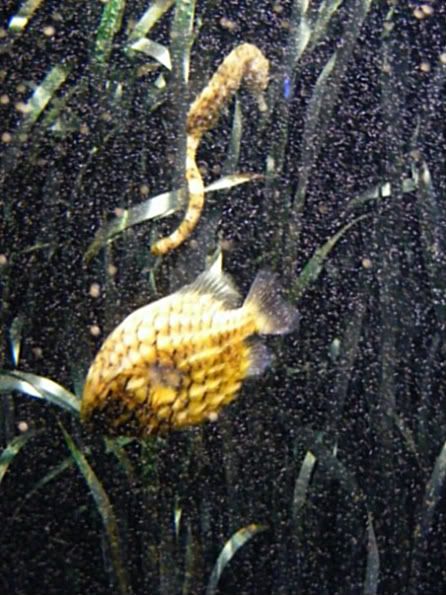 different sorts of Seahorses (they're BEAUTIFUL, they look like faeries!)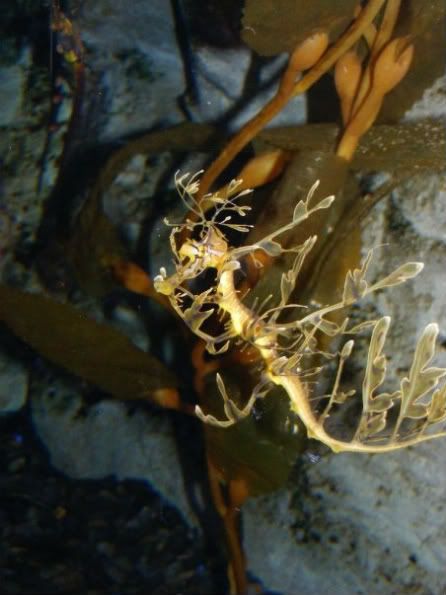 the Seal/ Sea Lion show was really cool, and our personal favorites, the Sea Otters. Sneaky little buggers, aren't they? I also loved this Sea Turtle. He was missing a fin.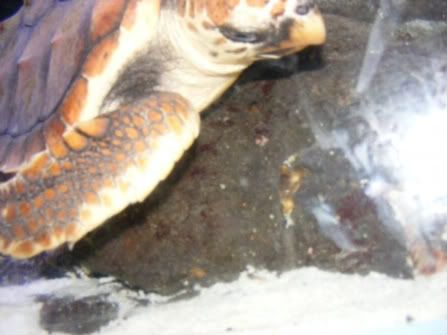 Since Dave is a very active person, every few days he needed to get back into his element. Many Significant others don't seem to take interest in their other half's hobbies and passions, or better yet they discourage them to continue. I've always said that I wanted to end up with someone that had a passion. So I went with Dave to the skate park on the beach to watch him and his buddies ride BMX.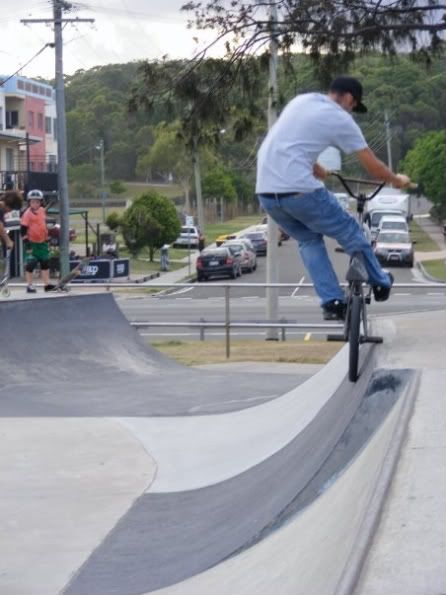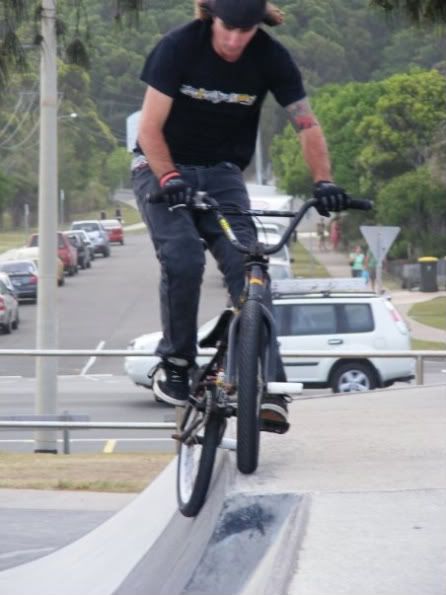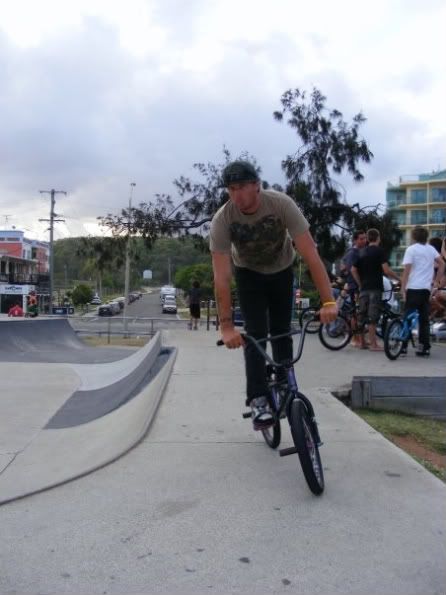 It's awesome, but no wonder there are so few girls in this sport, these boys go into a session KNOWING they're going to fall off their bike and get hurt! Now, that takes passion (and guts!)! Most times, it's just a scrape or a bruise, but sometimes it gets ugly...Broken bones mean no riding until it's healed, which could take weeks or even months!
It's such a nice thing, watching the person you care about in their element. You can see their mind go blank, and nothing else matters in the world. There's just you and your bike. Don't you wish that everything that makes you happy could be this simple? Dave and his friends are so dedicated to their sport, and I love it.
For a week of my trip, Dave wanted to take me down to Sydney for some sight seeing and to meet some more members of his family ( as well as get interviewed for his 6-month visa application at the US consulate). It was a long, 13 hour drive, but I spent most of the time playing music for Dave to discover, and reading. Somehow, I can read while being in a car. Not for too long, I have to rest my eyes every half hour or so, but I don't recall ever feeling sick to my stomach like most people seem to.
We stayed at his Uncle Reno's place. Uncle Reno is a very sweet man. He is also a talented photographer. (I'll eventually put up a link to the family tree on here, so you can know who is who, but Reno is Dave's Mom's Brother). We got in late so after a quick bite to eat we went to bed. Uncle Reno had to work the next day, so Dave and I went to his old neighborhood. He showed me the house where he used to live.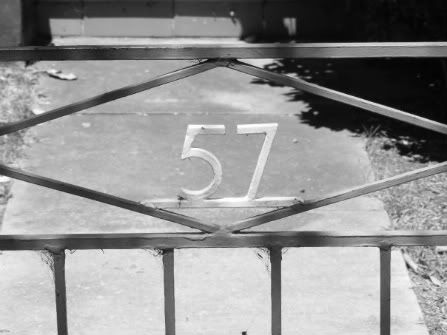 Later on, we met up with his childhood best friend Tobias. Toby is so much fun! His mommy is a nice lady too. They went for a ride.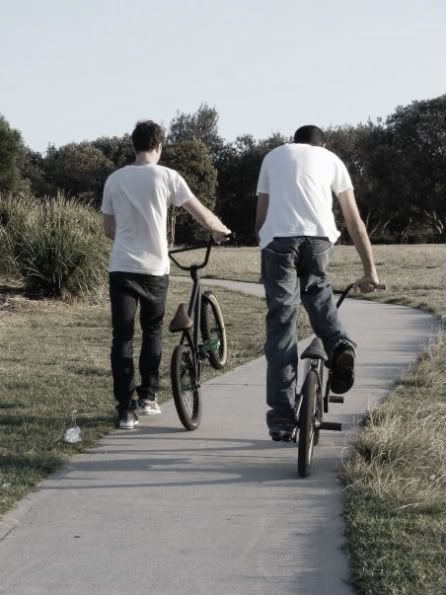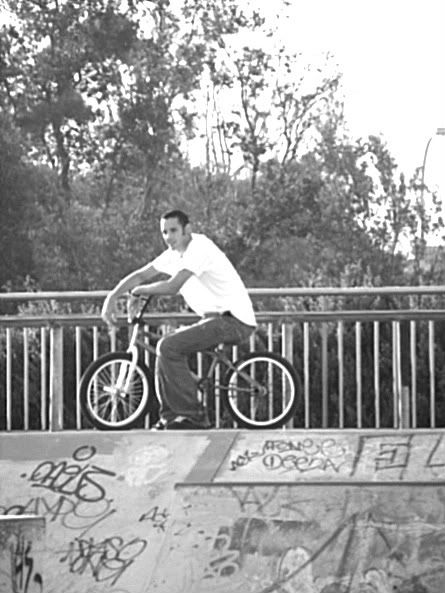 The following day, Dave had his appointment with the US consulate, so I went exploring in the shopping center nearby. I discovered an AWESOME store! It's called
Dangerfield
. It's like Hot Topic, when it was darker (back in the day), and Urban Outfitters hybrid! I was a bad girl and bought a few things, a dress, a skirt, and a nice halter top. It's all pretty good quality, they cater to their small Rockabilly/Psychobilly community, but also some scenester stuff too, some pretty cool novelty tees, etc...I wish they sold online, because the Sydney location is the closest one to us! =[
We walked around, had some lunch, and took the ferry to Manly, which is (I THINK) some sort of island or peninsula with a street with shops and a delicious ice cream parlour. It started to rain, so we took the ferry back to the main part of Sydney, where you can see the Sydney Opera House! On the boat, I had an interesting experience with 3 young Aboriginal males. It obviously was not what I assume is a good representation of their culture, but these boys were VERY aggressive, walking around the seats, going up to random people (most other men) and trying to start fights, verbally abusing complete strangers who hadn't so much as glanced at them until they saw or heard them disturbing other passengers. They were also making inappropriate advances at women on board. This is the first time I really saw Dave get protective of me. He looked so angry...Ready to burst if they came towards us and tried to start a fight. Thank GOODNESS it didn't come to that. I think that if we had been on board any longer, it would have ended up ugly. We waited until they were off the boat and out of eyesight, and we left. Unfortunately, they were headed in the same direction as us, to the Metro. We decided to just wait and take the next train. I had an Iced Tea ( in Australia, they are lucky enough to have delicious bottled teas made by Lipton and Nestea), and we got on the metro to meet up with Dave's childhood friends, whom we were meeting for drinks and dinner. Funny enough, a stop or two on our trip, they got into the same car as us! Easy meet up! I'd like to say that Sydney reminds me quite a bit of San Francisco, in all the good ways ( I can't think of any bad, anyway). Sydney is also a very clean place, which is nice, because most big cities certainly are not. I can't wait to go back and see more of what this amazing city has to offer!
More later, and pictures too! About to get picked up to have dinner with friends!