I met Dave on June 20th, 2008.
An old friend of mine, who was an exchange student from France that I kept in touch with over the years emailed me and told me he was in Australia going to school and was coming to LA with 3 friends. I offered to pick them up from the airport ( for those that don't know me, It's kind of my thing, to help my friends and offer my help with anything).
So the day came that I picked them up, and there was a really cute friend of Alex's accompanying him...Dave was the first to start asking me questions, first about general things, like living in Los Angeles, then more personal, like my tattoos, the music I liked, etc...needless to say, something clicked. Here is a photo of how full my car was, 3 tall boys ( Heath came the following day) and their bikes and bags, I overestimated the size of my car just a tad... Dave is on the right, getting crushed by a box, Tristan is the one on the left.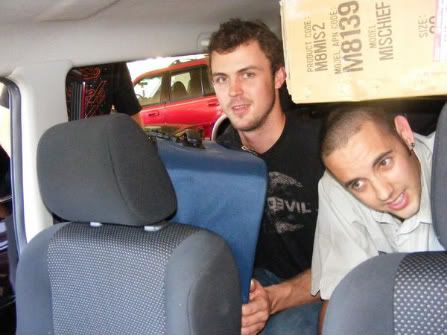 Note my pink hair in the rear-view mirror: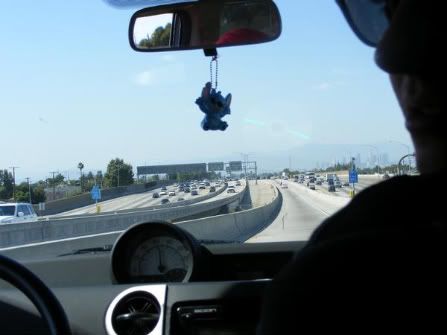 I spent the day with them, and I thought he would definitely be out of my league. I was never the pretty girl in school, more like the loner, but not necessarily the nerdy type), and although I had changed quite a bit since then, I still felt like he wold have been the cool guy in school, therefore, it would never work. I mean, I had pink hair for goodness' sake! Anyway, I spent nearly every day with them, showing them around, and their 3rd week in the States, they went up to San Francisco for a week.
They invited me to go to Las Vegas with them the weekend after they got back. I got a surprise message on MySpace from Dave saying "You better come to Vegas :) " and I was very shocked! We went, and the first night there, we all stayed up hanging out in the bar and Dave and I talked until about 7:30am. I remember at one point in the conversation, he asked me if i had a boyfriend...I replied that I did not. Then he asked me if I had a "crush" on anyone in his group of friends, and I said I did not ( which, obviously, was a complete lie, but you can never muster up the courage to tell the hot boy in school that you like them obviously!) he looked mildly disappointed actually...and funny enough, I don't remember at all when it started, but at one point in the conversation I noticed his hand was on my knee. It wasn't in a pervy was at all, very sweet, and affectionate. Very surprising, to say the least!!
I hadn't planned on staying in their hotel room, but when it got to be that late, Dave insisted that I stay with them. We went to the van in the parking lot, to get my stuff. Me being a big photo nerd, I brought my Polaroid camera. And so the First Picture of us together was born. (I'm going to have him scan it and send it to me so I can post it here).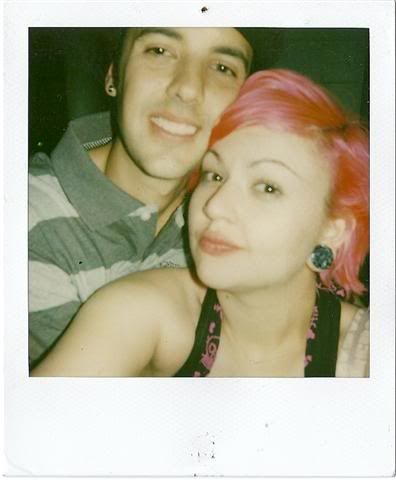 We went upstairs, and in the hallway, we bought a couple of bottles of water. And yes, we had had a few drinks, but he decided it would be a good idea to try and carry me on his shoulder ( like, throw me over his shoulder) terrible idea. Obviously your sense of balance is a little off when you've had a couple of drinks, so we both came tumbling down onto the floor. After a fit of giggles, we went into the room.
My old friend Alex was passed out on one bed, and I told him i'd sleep on the floor since I wasn't paying for the room, and he insisted I sleep on the bed and he'd take the floor. Well, now I couldn't be having any of that! He was paying his share! So we agreed to share the bed, because I sure as hell wasn't sleeping next to "Frenchie"( we called Alex). We talked for about another hour or so, and he confessed that he liked me...I wasn't quick to admit my fondness for him though, having been hurt many times before. But when his face was just before mine and I could tell, even in the dark, and he had such an innocent, truly sincere look on his face, I let him kiss me...yes I let him! Sue me! Don't ever turn down a cute boy's kiss! It was wonderful. Perfect in every way. I don't think I've ever told him this, but I was basically already in Love with him by then. We fell asleep just after that. ( Really!!)
At about 10:30am, I unfortunately got a phone call from my roommate telling me that my pet Chinchilla Elvira had died.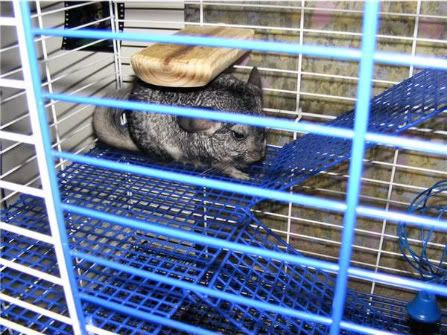 Obviously, I cried. I was really upset, and Dave, being the sweet, sweet hunk of man that he is, cuddled me and made me feel better ( well, as "better" as I could get, given the situation). We all finally woke up in the afternoon, a bit hungover, and had come breakfast at the coffee shop next door to the hotel. I didn't know how much Dave had had to drink the night before, so I acted as if nothing had happened at all, even when the boys weren't around, in order to save face if for some crazy reason he didn't remember the occurrence of the night before. He gave no indication of remembering either. That night, we kissed again in the secrecy of the dark. When daylight hit, anytime someone else in the room gave any sign of life, we stop cuddling and acted as if we were sleeping next to each other, nothing else ( even facing away from each other!). The following day, same deal. We both acted as if nothing was going on. And believe it or not, the dudes believed us! They had no clue! That night was our last night, so I decided I wanted to go across the street to see the Lions at the MGM Grand. None of the boys were interested, except Dave! Great news! We walked across, were rather quiet, barely said a word to each other, aside from mentioning how cool the lions were. I figured it was all over and that it was just going to be a fling. And you know what, I let myself believe that I was okay with that.
The next morning,we went back to LA, the boys got their hotel room in Orange County, and i didn't see them for a couple of days. That following Sunday, I offered to take them out to a club that a friend of mine promotes. They agreed, but by the time I got to their room to pick them up, only Heath and Dave felt like going. so, the 3 of us picked up my friend Shelley and headed to Camerata at Cinespace in Hollywood.
In this picture, Dave and I were secretly holding hands =]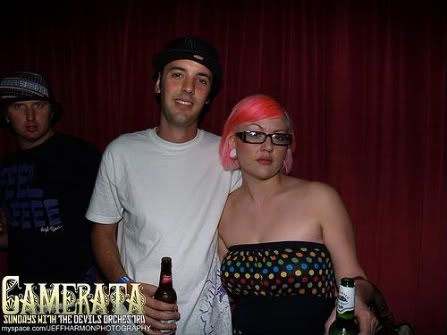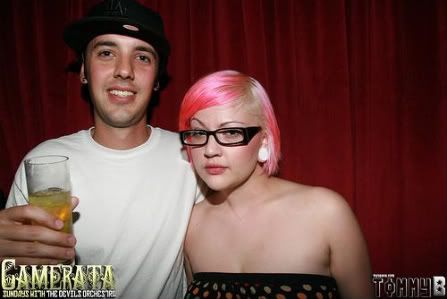 I had mentioned to them that before they left, we could go to Disneyland ( I had an Annual Pass) They decided they weren't as interested as they thought they'd be, but Dave's Flight was canceled, and he had to stay one extra day in LA, and told me he would really like to go with me. So the night before, since he was alone, I asked him if he was bored or was enjoying the time alone. He invited to to come hang out. I ( perhaps half out of hope) packed a change of clothes and a toothbrush and threw them in the trunk of my car. I get there, and it's around 8:30, and he's hungry, so we go driving, looking for a place that's open that's not fast food. We get to Redondo Pier and walk around, and believe it or not, Oriental Breeze was open. So we went in, and had a very romantic dinner. As we talked, He gave small indications that he didn't regret what had happened in Vegas...and that he remembered it all, too.
I'm going to continue this tomorrow, because he is going to Skype call me any moment now, and this is the best stopping point I could find...until tomorrow!! <3