We left Beijing at 9am, took a 6 Hour flight to Kuala Lumpur Via Malaysian Airlines. We were going to do a day tour because we had a 7 hour layover, and they tried to rip us off so we stayed in the airport. I was almost finished reading this:
It's a Gothic Novel, recommended by my 10th Grade English Teacher. I told my mom it was for school because it was the only way to convince her to get me books, I read so much it was getting expensive. I never got around to reading it until now. I really enjoyed it. It's Based in France and Italy, there are lots of landscape descriptions, it's a little bit creepy ( just how I like my books), and it's over 600 pages so it kept me occupied for a while. I'll give this one a rating of 7.5/10, only because It did take me a long time to read. Landscape descriptions took a page sometimes...I still recommend it.
I bought a book in the Airport because it was cheaper than buying it in Australia, I finally caved and bought this: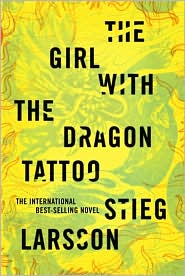 I ate it up in Less than a Week. I'm not usually into crime novels, but this one is so incredibly well written, and although it's also over 600 pages, I couldn't put it down. Do yourself a favour, avid readers, because this one is going to get you addicted to the 3 book series. To this one I probably have to give a 9.5/10. I can't just GIVE it a ten, but it was pretty darn close.
I can't wait to watch the Swedish (original) version of the Movies, but I'm a firm believer in reading the book before seeing the movie. I'm also excited to see the English language version of the 1st book coming out later this year I believe. Here is the trailer:
I am particularly excited for this version because Nine Inch Nails frontman Trent Reznor is doing the soundtrack. And I love a killer soundtrack.
I'm currently reading the next one in the series:
While traveling, do yourself a favour, friends. Either buy a couple of book in the Airport, or if you stay at a hostel long enough, Have some sent via Ebay or Amazon. Now I'm not usually a big fan of Amazon because lately we have had trouble receiving things we have ordered ( also known as my Xmas present from Dave). But, I took the chance, got free shipping on Amazon.fr and got my book on Monday when its predicted arrival date was today, wednesday. I have to say I'm impressed. I've started but this time I'm forcing myself to pace myself. I'm already hooked, of course.
I don't have a very long to-read list at the moment, after this series I plan on reading Eat, Pray, Love. Any suggestions?